Concrete Overlay
Learn how to create the latest flooring trend of "Concrete Wood". Will show you how to create a live wood edge and a variety of color schemes.
Epoxy Flooring
This training can include solid color, metallic, flake, and quartz.
Metallic Epoxy Flooring
Start to finish instructions and jobsite techniques that will have you ready to create amazing floors.
Wood Look & Metallics
Learn how to transform concrete by combining polymer flooring and epoxy coatings.
Iowa's Premier Training Center
515 offers comprehensive training programs that equip you with the latest design trends and real-world job site applications.
Our hands-on courses cover a range of topics, including:

Polished Concrete | Epoxy Flooring | Concrete Overlays | Stained Concrete | Stamped Concrete | Concrete Casting
With our expert team guiding you through best practices, you can be confident that you are learning from the best in the industry. This training can help enhance your career prospects and provide new avenues for professional growth.
In this comprehensive training course, you will learn how to polish concrete floors using premium polishing products and techniques. This course is designed for professionals who want to improve their skills in polishing concrete floors, including contractors, architects, designers, and other industry experts.
Manufacturer Product Training
These one day training courses will focus on specific products, techniques, and manufacturer best practices. A fantastic way to expand your product knowledge. We provide these courses for Coval, Ameripolish, Solid Solutions Products, SureCrete, BallistiX, Slurry Solutions, Lavina, IPC Eagle, UFO Diamond Tooling.
Concrete Overlay Training
This concrete overlay training course is designed to teach individuals about the application of micro-toppings, thin-overlays, and stampable overlays.
Participants will learn to enhance concrete surfaces with various decorative techniques, including stamping, staining, and engraving. The course also provides technical knowledge on how to use different types of tools and materials.
The epoxy flooring training course is designed to provide you with the knowledge and skills required to install, maintain, and repair epoxy flooring systems. The course covers various aspects of epoxy flooring systems, including surface preparation, proper mixing and application of a variety of epoxys, urethanes, and polyaspartics. With focus on the latest finishing techniques.
Sign Up for Training
Once you submit your request, a 515 team member will reach out to let you know avaiable dates, cost, and answer any other questions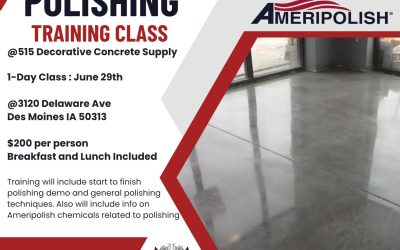 DATE June 29, 2023 LOCATION 3120 Delaware Avenue Des Moines, IA 50313 TRAINERS Kevin VanElsen COURSE FOCUS This intro to polishing concrete is a 1-day polishing concrete training include start to finish polishing demo and general polishing techniques. Will also...